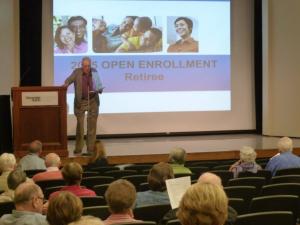 The Silver Jackets is an organization for retired Georgia Tech faculty and staff. Monthly meetings feature guest speakers on a wide range of topics, providing an opportunity to socialize and find ways to serve the Tech community.
From a founding group of 12 retirees we've grown to over 500 members and welcome new members. All Georgia Tech faculty and staff who retire in good standing are eligible to join. We charge no dues, but accept donations through the Georgia Tech foundation.
Meetings begin at 11:00 am on the second Tuesday of the month from September to May. Minutes are distributed to our 500+ members by e-mail.